Essential Scenery Addons for your
Microsoft Flight Simulator installation
for flying in the Northeastern US and Eastern Canada
I've collected links to a number of scenery and support addons for Microsoft Flight Simulator 2004: A Century of Flight for flying in the Northeastern US and Eastern Canada, as well as a number of sceneries for other areas around the U.S.. If you are looking for scenery for other locations, I suggest you also go here or here. I highly recommend purchasing Ultimate Terrain - USA (and also Ultimate Terrain - Canada and Alaska if you plan to fly up north), as well as FSGenesis US Landclass. The freeware FSGenesis Mesh (see below) is excellent, but unsupported. But I have so far only found a couple of very, almost unnoticeable issues in the Northeast. The mesh available for purchase from FSGenesis is under continual revision and is fully supported.
Freeware
(All links to
www.Avsim.com
unless otherwise noted)
(* - Not needed if Ultimate Terrain:USA is installed)(** - Not needed if Ultimate Terrain:Canada is installed)
Mesh/Landclass/Water - Makes the ground elevation and lakes/rivers/roads, etc. more accurate
Description
Author
Filename
Download
FreeFlow New England v1.0
Scott Gridley
freeflow_new_england_v1.0.zip
Download
FreeFlow New England v1.0 KBOS Fix
Scott Gridley
ffnekbos.zip
Download
**Canada Roads v2.0
Joel Gill
canada_road_system.zip
Download
**Canada Roads v2.0 - British Columbia Update
Joel Gill
british_columbia_road_system.zip
Download
**Canada Roads v2.0 - New Brunswick Update
Joel Gill
new_brunswick_road_system.zip
Flightsim.com
*United States Roads and Railways file 1
Raimondo Taburet
login and search for usaroad*.zip
Download
* Maine Coastlines
Jim Keir
Maine.zip
Download
* Long Island Coastlines
Dan Baisley
long_island_coastlines.zip
Download
* NY Lakes v1.2
Peter Ricciardiello
nylakes12.zip
Download
Nova Scotia Landclass v2
Rick Zenkner
nova_scotia_landclass.zip
Download
Quebec Landclass
Pascal Fleury
quebec_landclass.zip
Download
Ottawa Landclass
Roger Wensley
Ottland1.zip
Download
Beta evaluation version of USA Landclass
FSGenesis
Enhanced Airports
Description
Author
Filename
Download
KBOS v2.0
George Grimshaw
boston_logan_1.1.zip
Download
Cape Cod Airports - KACK Nantucket, MA
William Shea
kack.zip
Download
Cape Cod Airports - KACK Nantucket, MA Fix
William Shea
kackfix.zip
Download
Cape Cod Airports - KMVY Martha's Vineyard, MA
William Shea
kmvy.zip
Download
Cape Cod Airports - 1B2 Katana Airpark, Martha's Vineyard, MA
William Shea
k1b2.zip
Download
Cape Cod Airports - KHYN Hyannis, MA
William Shea
khyn.zip
Download
Cape Cod Airports - KBID Block Island, RI
William Shea
kbid.zip
Download
KBDL - Bradley Airport, Windsor Locks, CT
Phil Chimbolo
bdl2005_v1-00.zip
Download
KBUF - Buffalo, NY
Simon Baldwin
buffalo.zip
Download
KROC - Rochester, NY
Simon Baldwin
rochester.zip
Download
KROC - Rochester, NY Fix
Simon Baldwin
rochester_fix.zip
Download
KISP - LI MacArthur, Islip, NY
Phil Perlman
kisp_fs2004v2.zip
Download
KISP - LI MacArthur, Islip, NY AFCAD
Phil Perlman
af2_kisp2.zip
Download
KLGA - LaGuardia Airport, NY, NY
Shehryar Ansari
lga2004.zip
Download
KLGA - LaGuardia Airport, NY, NY fix
Shehryar Ansari
lga2004fix.zip
Download
Airports of Newfoundland - AFCADs
Lee Brompton
lb_nfld.zip
Download
Airports of Vermont - AFCADs
Brian Gladden
vt_airports_04.zip
Download
6B0 - Middlebury, VT
Robert Williams
6b0_scen.zip
Download
CYHZ - Halifax, Nova Scotia
Steve Mosher, Craig Mosher
CYHZ_v10.zip
Download
CYQM - Moncton, New Brunswick
Steve Mosher, Craig Mosher
CYQM_v10.zip
Download
CYYT - St. John's, Newfoundland
Steve Mosher, Craig Mosher
CYYT_v10.zip
Download
CYHZ - Halifax, Nova Scotia AFCAD
Lee Brompton
lb_yhzxw.zip
Download
CYQM - Moncton, New Brunswick AFCAD
Lee Brompton
lb_yqmxw.zip
Download
CYYT - St. John's, Newfoundland AFCAD
Lee Brompton
lb_yytxw.zip
Download
FS2k4 Update for Mosher Brothers' CYHZ, CYQM, CYYT
Shane Strong
maritime.zip
Download
CYGK - Norman Rogers Airport Kingston, Ontario
Keith Murphy
cygk.zip
Download
CYQG - Windsor, Ontario
Garvin Barnicoat
cyqg_04.zip
Search
Quebec Short Hops Series - Search for files at www.avsim.com
Leon Louis
Search
John Loney has recreated many, many airports in the Northeast US and elsewhere.
John B. Loney, Jr.
Enhanced Scenery
Description
Author
Filename
Download
Statue of Liberty
Daniel Buechter
liberty3.zip
Download
NYC Buildings updates
Tatu Kantomaa
nyc_obj3.zip
Download
Greater Toronto Part 1
Team Flight Ontario
flight_ontario_part1.zip
Download
Greater Toronto Part 2
Team Flight Ontario
flight_ontario_part2.zip
Download
Thunder Bay Ontario inc. CYQT & CKG8 v2
Team Flight Ontario
Thunderbay2.zip
Essential Files
Description
Author
Filename
Download
FSUIPC - This is a must!!! Be sure to get latest version.
Pete Dowson
fsuipc.zip
Download
Runway Textures
Nazim Ali Patel
airland1.zip
Download
Airport for Windows Textures - Needed for many scenery addons.
Tom Hiscox
Airport%20v2.60%20Textures.zip
Download
Airport & Scenery Designer Textures - Needed for many scenery addons.
Abacus
asdv21_textures.zip
Download
Gerrish Gray's Tree Library
Gerrish Gray
trees_v3.zip
Download
RWY 12 Scenery Design tool and library
Be sure to download all libraries, too.
Israel Roth and Seev Kahn
rwy12_program_v1.2.zip
Environment Addons - Try them out, see which ones you like.
Description
Author
Filename
Download
TBD
Author
*.zip
Special Mention - Not in the NE, but too good to miss.
Description
Author
Filename
Search
Holger Sandmann's Scenery addons and mesh; including scenery for NW US and Western Canada and Alaska, as well as new mesh for the Alps and Himalayas
Holger Sandmann
See this thread to determine which files you need
Payware
Essential Aircraft Addons for your
Microsoft Flight Simulator X installation
I've collected some links to a few my favorite aircraft available for Flight Simulator, both Freeware and Payware. This is just a small sampling of what is available. I highly recommend searching the many websites available for the aircraft you like. Many of the author's below have developed multiple aircraft. I've created links to those others where I could, and I suggest you search further as well. I list a number of great sites under the "Links" section. Notably Tom Gibson's "California Classics" for classic propliners is great, some of which are ready for FSX, Milton Shupe's aircraft look and work GREAT; and Jens Kristensen has released a plethora of very nice 1930's and '40's propliners for FSX. There are many others. My favorite download libraries to search are at Avsim, Flightsim.com, Simviation, and Sim-Outhouse I fly almost exclusively from the Virtual Cockpit view, which is the default now in FSX, so you will note that all the aircraft I have chosen here have a 3D Virtual Cockpit. I also HIGHLY recommend that you check out the TrackIR 4. I find it indispensable. Get $30 off on your purchase here.
Default Aircraft
(Click on the name or button for a description of the aircraft. Use the selection boxes on the top row to filter by type.)
Reset Filters
Freeware Aircraft
I've collected here a sampling of what I think are some of the best freeware aircraft for FSX in a wide range of categories. I have installed, modified if necessary, and tested each of them in FSX. Look for my tutorials on what I've done to those planes not designed for FSX to make them work in FSX.
(Click on the name to download the aircraft. Use the selection boxes on the top row to filter by type.)
(All download links to
www.Avsim.com
unless otherwise noted) -
Don't forget to search for repaints, too!

- FSX ready version available. Others may require some editing to work in FSX.
Reset Filters
Payware Aircraft
Here is a sampling of payware aircraft either currently available for FSX, or which are currently in development for FSX.
(Click on the name to purchase the airplane. Use the selection boxes on the top row to filter by type.)
Reset Filters
Installing Microsoft Flight Simulator
Daunted by the amount of software available and wondering how to get a good, working installation installed?
Click Here for a step by step process sheet I use when I install Microsoft Flight Simulator on a system. In order to understand this process, you must be familiar with moving and copying files in Windows. Please see FSX Directory Structure for a description of where FS9 expects to find the files you will be installing. If you are not familiar with how to manipulate and move files around, I offer services to help you install the software. Give me a call and we can set up an agreement and I'll help you get set up. I charge $25/hour ($15 minimum on first call), or you can choose a package installation deal. Quick email help is free. The references to Disk1 and Disk2 are the disks I give away with my class, but all the files listed below, except those that are payware, are freeware available at www.Avsim.com and www.flightsim.com and other sites. FS9 is the directory you installed Flight Simulator.
Installation tips: Aircraft
Installation tips: Scenery
Whenever you are installing software, it is a good idea to back up the files which are about to be overwritten with newer versions, or to deactivate instead of deleting files which are no longer needed. To deactivate a file, you need only change its extension to something unrecognizable to FS. And make sure to VERY CAREFULLY follow the author's installation instructions in every addon you install. You will almost always find a readme file with each addon you download.
Aircraft: (top)
Downloaded aircraft come in two forms, those with self-installers, and those in .zip files that you need to install. In the end, they both install the same thing. They will typically contain files for the Aircraft, Effects, and Gauges directories, and every so often a few files in the FS9\Textures directory (see FSX Directory Structure). Always be careful to read the installation instructions. I'll cover installation of aircraft in two steps, that of .zip files, and that of self-installers.
Zip Files: Open the zip file. They will come in many different variations of how the author stored the files in the zip file. Look for a directory containing the aircraft directories and place this directory in FS9/Aircraft. You may want to edit the aircraft.cfg file to modify the manufacturer, type, and variation to your liking. Then look for any gauges and/or effects files you'll need to install. Often, they will have their own directories that you can just copy their contents to the FS9/Gauges and FS9/Effects directories respectively. Sometimes, you'll find gauge files in the Aircraft\PlaneXXX\Panel directory that need to be put in the main FS9\Gauges directory. Finally, once the plane is installed, I'll run FlightSim Manager and use its diagnostic tools to make sure all the gauges and effects and components have been correctly installed. This should be all you need to do to install the aircraft.
Self-Installers: Self-installers can be a good thing. They offer the ability to ease installation for those unfamiliar with the process. They usually allow you to uninstall the product when you don't want it any more. For many reasons, however, I prefer to install most addons in FS9 by hand. For instance, an uninstaller may delete a gauge that is being used by another aircraft. So for payware aircraft, mostly out of fear of screwing up the security, I'll just use the installer as it was designed. But for most freeware aircraft, I'll normally install the aircraft to C:\wutemp\Flight Simulator 9, check out what files were installed, and then install them where they need to go. This way, I won't accidentally overwrite any existing files that may be newer, and it gives me more control over the installation. After that, as above, I'll run FlightSim Manager to make sure the installation is ok.
Definitely check out FSX Directory Structure to understand the directory structure of Aircraft, and look through a few aircraft.cfg files to become more familiar with how this structrue works.
In Flight Simulator X, the procedure is basically the same, the only difference now being that the aircraft directory is now in the FSX\SimObjects\ directory. Everything else is pretty much the same, except that the user now has more control over where files can be stored. I'll write more about that after the SDK has been released.
Scenery: (top)
When adding scenery to Flight Simulator (FS), you must tell FS where to find it. To do this, start FS and go to Settings/Scenery Library. You will see a screen which looks like this (fig. 1). Use the "Add Area..." command to add new scenery libraries to your installation once you have copied them appropriately to the Addon Scenery directory or installed them with their installer (if they came with one)..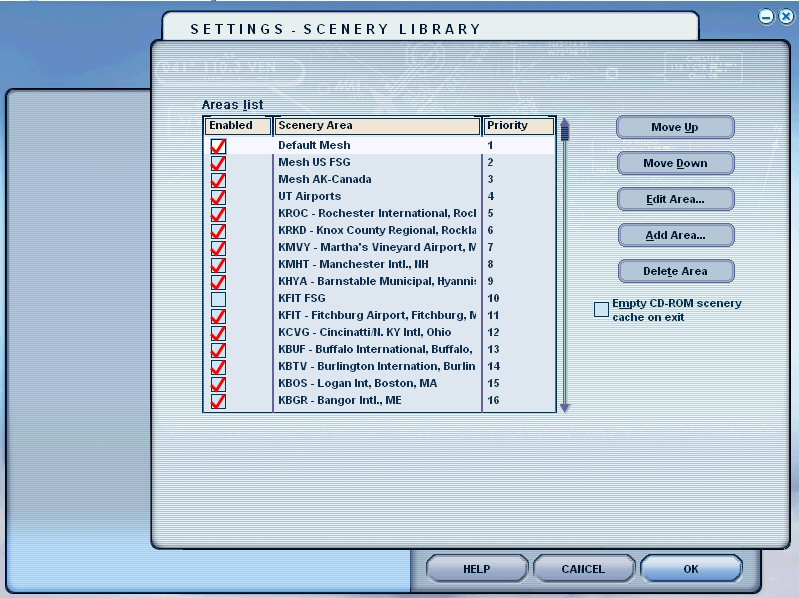 Scenery is stored in directories on your disk (see FSX Directory Structure). Typically, a given scenery or airport library is installed in a directory under FS9\Addon Scenery. For instance FS9\Addon Scenery\XXX, where XXX is the name of the directory containing the scenery library. The XXX directory will contain two more directories, one called "Scenery" and the other called "Texture" (NOT "Textures"!). Their spelling is very important!
Once you have added a scenery library to the list, the order of the libraries in the "Area List" is very important. For all the different types of sceneries, except for mesh, having a lower number value in the list gives it a higher priority, 1 being the highest priority. Those items (except for mesh) at the bottom of the list are read first, and then the libraries are successively drawn on top of the last result as you move higher in the list (towards lower number values). So you will typically want the more important libraries you install higher in the list. I put my terrain files lowest, landclass on top of that, sceneries on top of that, and then the airports. Despite what you might read in some places, landclass is like all other scenery and follows the same priority rules. Most developers suggest you install their landclass libraries with a lower priority than their scenery libraries, but read the directions to be sure.
Mesh libraries are read in the opposite direction. The Mesh library with the lowest number (higher in the list) is read first, and then subsequent mesh libraries are read going downward (towards higher number values). For this reason, I typically move the default LOD 8, 9, and 10 mesh files into their own library, so I can install that library as item 1 in the list. That way, if any scenery has its own mesh, the mesh files of the addon scenery will have a higher priority than the default mesh. Despite the priority order of the mesh, it is my understanding that FS will use an LOD 10 mesh instead of an LOD 9 mesh, and so on. But if you have two LOD 10 meshes, the mesh with the higher priority (higher priority value) will take precedence.
Given these rules, my Addon scenery libraries are in the following order in the Flight Simulator Scenery Library manager window:
1. "Default Mesh" library
2. Addon Mesh libraries
3. Airport libraries
4. General Scenery libraries
5. Roads libraries
6. Default and addon photoreal city libraries
7. Landclass libraries
6. UT City landclass library
7. FSGenesis Landclass library
8. Ultimate Terrain libraries
9. "FreeFlow NE" (normal and modified for UT (see above)) libraries
10. Default Regional Scenery libraries (Scenery\Afri, NAME, etc.)
11. "Corrected Airport Elevations"Library (see Moving Default Airports)
12. "Default Scenery" library
13. "Default Terrain" library
I highly recommend downloading and installing "Flightsim Manager" (FSM) by Ranainside. Rather than using the primitive Move Up/Move Down buttons in FS's scenery library manager, FSM allows you to easily move items around in groups in the list once you've added the libraries using FS's Scenery Library Editor. And every time I install new addons, I use FSM's checking facilities to check the scenery.cfg file and repair it if necessary (which is often).
Tutorials
Looking to Learn?
Here are some links to tutorials covering various aspects or Microsoft Flight Simulator, from navigation to scenery design and other topics. At the bottom of the list are links to other sites containing even more tutorials.
Flying
Av8n.com - A new spin on the perceptions, procedures, and principles of flying
Navigation
FlightSim.Com How To - VOR-DME Arc Approaches for Pilots
Scenery Design
Moving Default Airports 2 - Scott Gridley
Installation Management
Further sites with tutorials and other learning tools and forums
Using an XBox 360 Controller with FSX
Microsoft Flight Simulator Century of Flight Portals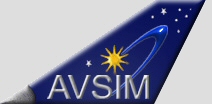 Online - One of THE BEST Flight Simulator portals/File Library/Forum sites

- "The World's #1 Flightsim Site"
SimHQ - The Simulation Community's Headquarters
Planesimulation - Flight Simulator 2000, 2002, 2004 and CFS2 add-ons
Simviation - taking PC Flight Simulation to the max!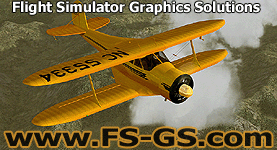 FS-GS - Great forum for learning to use Paint Shop Pro and Photoshop!

- Some great scenery for Florida, New England, Bermuda, and the Bahamas, as well as tutorials and other great stuff

- Dedicated to the development and support of combat aircraft for MSFS, CFS2, CFS3 and other simulations